Quality point of sale products direct from UK manufacturers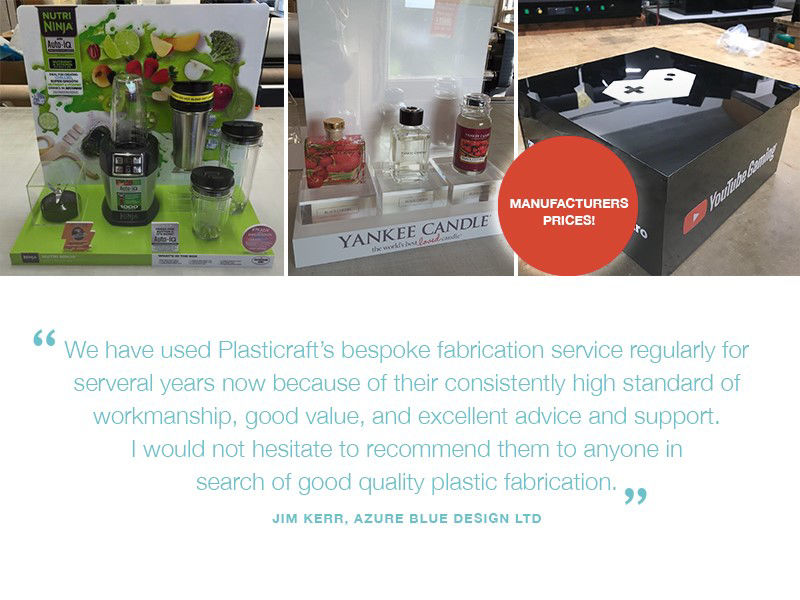 Your partner in trade
Our products show off your product beautifully and simply. Their quality and popularity over the years is testament to our success.
You can reap the benefits of over 70 years experience by becoming a reseller.
If you are interested then please contact Tracy@plasticraftdisplays.co.uk
Competitive costs
We keep our prices as low because we understand how they impact your overheads. Buying direct from us, the manufacturer saves you money and improves your profit margins.
Quality Guaranteed!
Our point of sale products are durable and of the best quality and all manufactured by Plasticraft Displays in our workshop in the UK. We are proud to be a British manufacturer and guarantee the quality of all our work.
Do you qualify as a trade customer?
If you order a range of our products in bulk quantiites to sell on to your own customers on a regular basis, you qualify as a trade customer.
What our customers think
We pride ourselves in the quality of our products and our customers will tell you that our customer service is excellent!

"I have used Plasticraft Displays for the past few years & have found them to be very reactive in a demanding market place & my business has gone from strength to strength thanks to Mark & his team."
CLAIRE, CXG Print & Project Management Limited
"My bracelets stands arrived this morning and I really like them.  Makes a big difference to the display of my jewellery pieces.  Great service - thank you."
LESLEY FINCH

"Good quality products and great service.  Happy to recommend!"
RICHARD, Ecloud
If you have any queries please get in touch with us at tracy@plasticraftdisplays.co.uk or call us on .